It's no secret that online is the new way to buy. The rise of eCommerce has been accelerated in the past year by COVID-19, and this upward trajectory is only going to get steeper as time goes on. 
Buying online is popular for a number of reasons: it's convenient, quick, and always evolving to make the customer experience better. 
The growing digital demand, however, means more competition as businesses battle it out online. There are now more eCommerce sites than ever, and brands have to stand out in an ever-more competitive field if they want to generate conversions and sales. 
Doing this is no easy feat.
Why do you need interactive website features?
Brick-and-mortar store assistants have the advantage of a physical connection. Let's say you're visiting a physical store on the hunt for platforms like Broadvoice. They can ask you exactly what you're looking for, make recommendations, and establish a relationship with you there and then. 
eCommerce doesn't have this luxury. It has to find other ways to build trust and get customers on side. 
So what's the best way to do this? Engagement, interaction, and entertainment. When an online site ticks these boxes, they have a far higher chance of generating sales. 
We live in an age where people's attention spans are limited. That's why 55% of online visitors spend less than 15 seconds on a site before making up their minds about whether they like what they see.
If you don't impress in this small window, you can kiss goodbye to your lead. People need to be wowed online, so it's vital that you accomplish this when they first visit your site. 
Things like live chats, surveys, website hosting, and personalized suggestions are all great ways to generate interest and engagement. Once you've hooked your customer, you have a much better chance of keeping hold of them.
 Here, we take a look at how you can do this.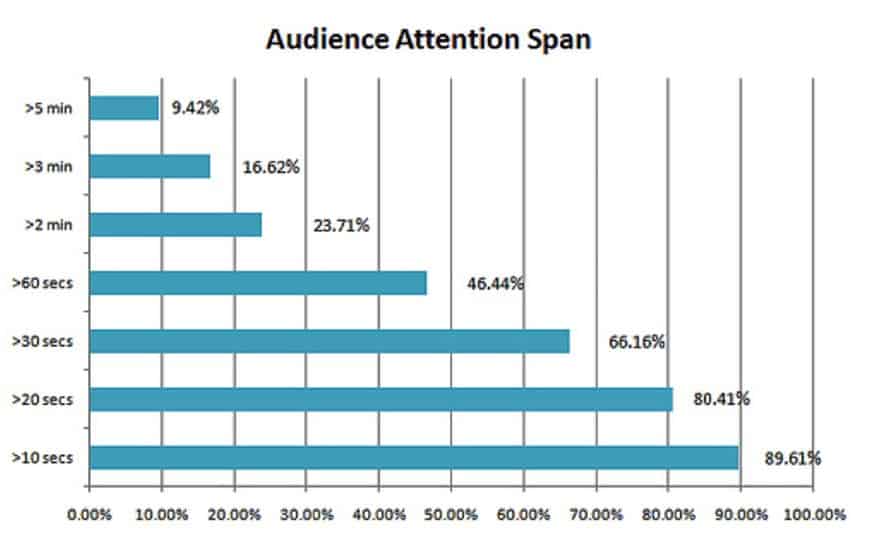 (Credit: Pixel Productions Inc)
1. Ask Questions
When it comes to marketing, asking questions has always been a great way to improve. There are two sides to this coin. 
Firstly, it's an invaluable tool for gathering market research. For example, if you're a company that sells voice over IP software, you may want to find out about your competitors and your product. Asking questions like 'what do you look for in 8×8 alternatives?' is a great way to access such insights. 
When you ask a customer what they think of your brand, you gain valuable information, learning about their preferences and how you can improve on the delivery of your brand message. 
The other advantage of questions is the engagement they generate. Everyone has an opinion and most people will be more than willing to share theirs if presented with the opportunity. With questionnaires, surveys, and quizzes, the customer feels important. You make them believe they have a say in how you can improve your business, which of course they do. And, as we know, engagement means sales.
2. Reviews
The first place customers head when they're unsure of a product? The reviews section! In the world of retail, customers trust each other. A review is a good way to cut through the marketing rhetoric and access an honest perspective on the product or service. Because of this, it's essential your eCommerce site has these.  
Research shows that 89% of visitors trust an online review, so making these visible is a must. Ensure that yours are accessible and easy to find, not hidden away out of sight. If it appears this way, you'll only make visitors suspicious. After all, what are you trying to hide? 
If reviews are easily discoverable, this will make the customer experience better and improve your website's performance.
3. Videos & Interactive Images
A picture paints a thousand words, and videos are a great way to simplify never-ending product descriptions. They present a clear and visible demonstration of how a product works, looks, and should be installed. It's no wonder 90% of visiting online customers say videos help when making buying decisions.  
Video features are invaluable assets for eCommerce sites. They enable a quicker and more efficient customer experience that ultimately engages, entertains, and drives sales. A great example of this comes from companies like Fuze. These grab attention from the outset and maintain this throughout the customer journey.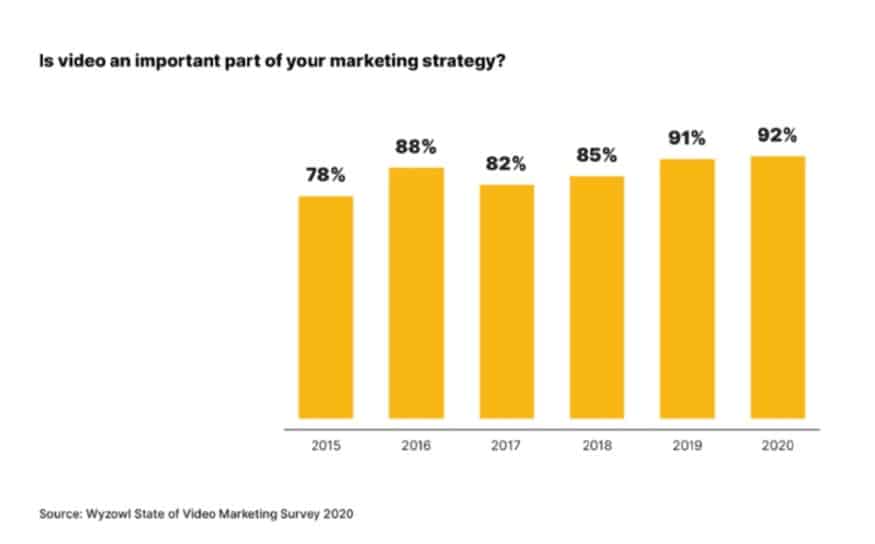 (Credit: Smart Insights)
4. Live Chat
eCommerce sites need to do all they can to make the customer journey a seamless experience. This applies to web design, website page speed, and various other features. The most important is customer support. If you get this right, you have a far better chance of converting engagement into sales. 
Gone are the days of waiting minutes – if not longer – for a response from customer support. There are now a number of software installations available that reply within seconds of a query or demand. This is so important as 80% of customers expect an immediate response. 
Quick customer support is as important as having an effective returns system. An instant and rapid response shows customers that you care, but it also prevents them from looking elsewhere while waiting for a reply. 
It only takes a second to close your site and open up a social media app to scroll through while waiting. Leave this response too long, and they're likely to forget about you altogether.
5. Personalized Product Descriptions
The best way to engage and interact is by keeping things personal. With hundreds of thousands of eCommerce sites out there, customers have plenty of options to choose from; making them choose your site is the tricky part. Personalization is, therefore, key and a must-have for new websites.
Like instant response times, a tailored marketing style tells the customer that you understand them and are going above and beyond to make them happy. People appreciate this effort and, most of the time, they'll stick with a site that shows this level of care.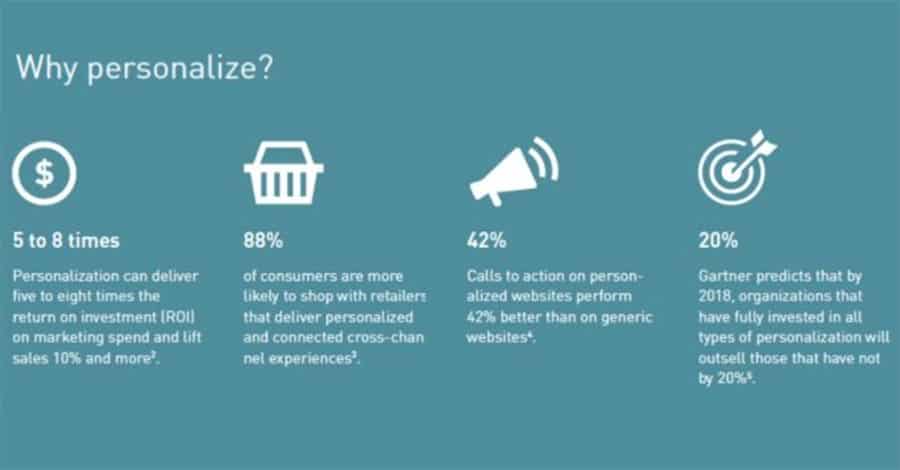 (Credit: Magnolia)
A great example of a personalized approach is personalized recommendations. Most people will have come across these on online retail stores. You may be looking to buy a new pair of trousers and, at the bottom of the page, there's a section that says: 'other products we think you'll like' or 'complete the look'. 
These are all based on algorithms, which will only get more accurate and efficient as time goes on. Efficient personalization goes a long way toward explaining why 80% of consumers are more likely to purchase from brands that offer personalized experiences.
6. FAQs
Frequently asked questions need frequently updated answers. In the past, FAQs have lingered in the back-end of sites or purposely tucked away out of sight. This is because no one really used to look at FAQs that much. Now, they're an essential feature. 
The modern-day eCommerce customer is more than happy to sort out issues themselves if provided with the correct tools i.e. FAQs. With an up-to-date and accurate FAQ section, visitors can easily source the answers they're looking for. This demonstrates that you're both prepared and professional. 
Companies like Bitrix24 – and many Bitrix24 alternatives – have great FAQ sections and even how-to videos. These are handy additions that customers remember when looking at other parts of a website.
Another reason why FAQs are so important is down to search engine optimization (SEO). If you answer a question well, you stand a decent chance of featuring in a Google snippet. This is the small box that appears at the top of search engine pages. 
These are in demand for good reason, as content with featured snippets has double the click-through rate of other normal content. It's safe to say, therefore, that FAQs are now an essential part of the website development process.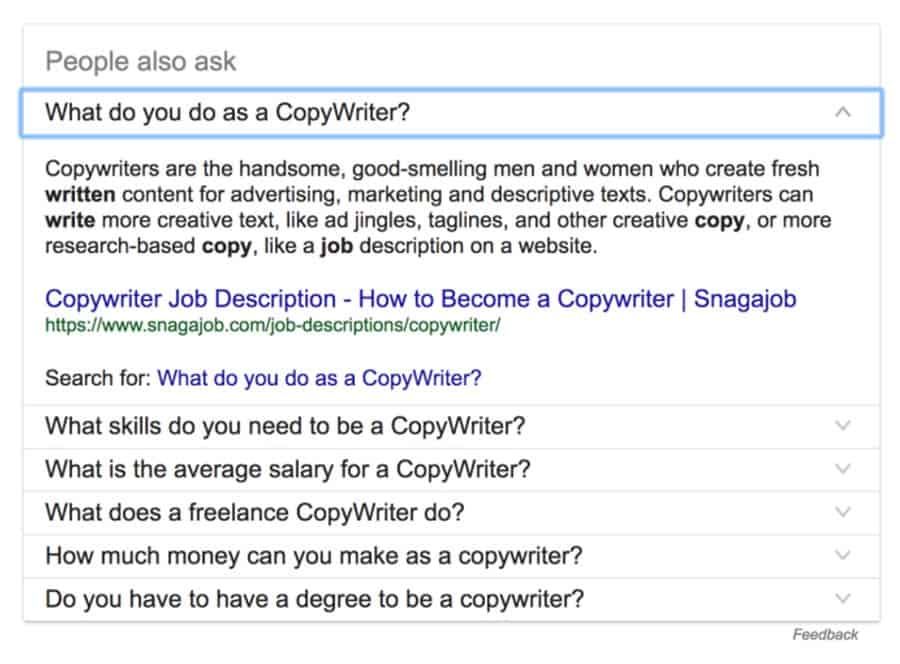 (Credit: Pro Copywriters)
7. Customized Product Options
A user-focused experience is one thing, but a customized product is a whole different story. These are things like adding initials to clothing items or changing the colors of some shoes you're looking at (think Nike ID, introduced in 1999). A lot of the time, customers use these features just for fun, but this is engagement with your brand nonetheless.
For others, customization is the difference between a purchase and an abandoned basket. It makes the product special and unique, which a large proportion of consumers actively seek. Customers love to have the option to experiment. So, if you can provide them with this, it certainly won't do your brand any damage.
The Takeaway
There are countless ways to make your eCommerce site more interactive, enjoyable, and engaging. When you master this, you have a far better chance of converting part-time visitors into long-term and loyal buyers. 
Traditional things like website design and SEO are fundamentals, but interactive features now represent the real difference between mediocre sales and sterling growth. Use these to your advantage, and you'll soon find yourself well ahead of your competitors.
Victorio Duran III –  RingCentral US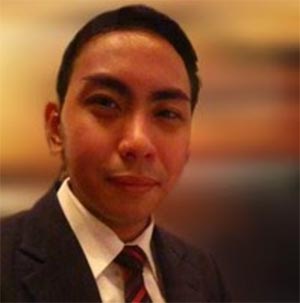 Victorio is the Associate SEO Director at RingCentral, a global leader in cloud-based communications and collaboration solutions. He has over 13 years of extensive involvement on web and digital operations with diverse experience as web engineer, product manager, and digital marketing strategist.
Main Post Photo by CardMapr on Unsplash